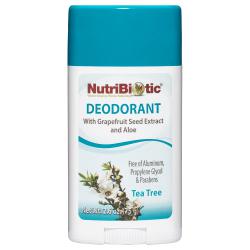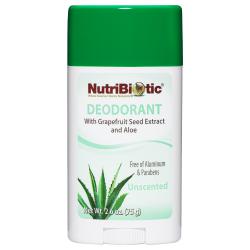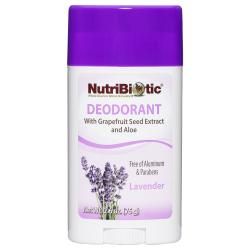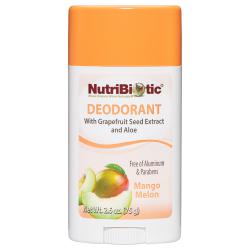 All-Natural Deodorants
Product Information
NutriBiotic® Deodorants are a long-lasting deodorants containing grapefruit seed extract, witch hazel, and aloe vera.
Will it keep me dry? - No. To stay dry you would have to use an antiperspirant, which uses aluminum chloride to block the sweat ducts and keep perspiration from escaping. Many people feel that stopping perspiration can work to the detriment of our health. Also, since the skin under our arms tends to be thinner, and since there are numerous lymph nodes in the axillary area, aluminum salts can be easily absorbed and may find themselves circulating throughout the body. Aluminum is a toxic metal that has been linked to immune dysfunction and Alzheimer's disease.
Say goodbye to harsh chemicals and embrace the power of nature. We believe that what you put on your body matters, which is why our deodorants are crafted with care using only the finest natural ingredients. Grapefruit seed extract, renowned for its natural antibacterial and antimicrobial properties, helps combat odor-causing bacteria, keeping you feeling fresh and confident throughout the day. It provides effective and reliable protection against unwanted odors without compromising your skin's health. We've also included witch hazel, a natural astringent known for its soothing and toning properties. This ingredient helps minimize pores, reduce sweat production, and maintain a balanced underarm environment. It keeps you feeling dry and comfortable while allowing your skin to breathe. To nourish and hydrate your underarm skin, we've enriched our deodorants with aloe vera. This soothing ingredient helps calm any potential irritation while promoting skin health and moisture retention. It ensures that your underarms stay nourished and cared for, even after repeated use. Our all-natural deodorants provide long-lasting protection, effectively neutralizing odors without the use of harsh chemicals or artificial fragrances. You can trust that our gentle formula will keep you feeling fresh and confident all day long.